PROJECTS
Having learnt, honed and mastered our skills by designing and building machines for our parent company, Gripple Automation have now extended that exclusive knowledge of both being an award winning manufacturer and automation service, to a wide range of industries. 
With manufacturing being in our DNA, we have an inherent understanding of manufacturers needs, and design and build these into our bespoke machines.
Working with Tier 2 automotive, Gripple Automation have been complimented on their quality and communication.
Designing and building bespoke machines that deliver on quality and capacity.
Here two rotary tables feed each other. With four bowl feeders, 12 stations and 4 quality checks - both vision and mechanical, this machine assembles, taps and quality checks at a rate of 25 parts per minute. It runs at 92% OEE with <1% reject rate.
For smaller projects or development work, hand jigs may be the preference as step one.
Again, our manufacturing background stands us in good stead for sequencing and ergonomics.
Gripple Automation designed and installed a bottling line capable of accommodating three bottle sizes, capping and increasing capacity by 5 fold.
Mechanical Design, Electrical Design & Programming – all done in-house.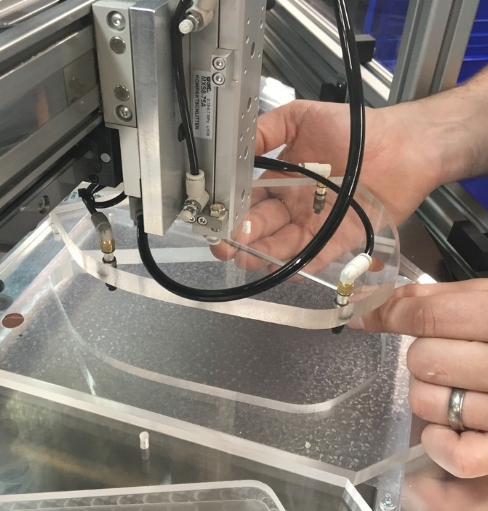 Various density foams, 16 different parts and applying flexible tape,we like a challenge!
Here we used vacuum handling , interchangeable nests and backlit vision to increase capacity.
Assembly of injection moulded parts and rubber seals, traditionally assembled by hand, could not keep-up with market demands.
Assembly cycle time to match moulding cycle time was the challenge.
A new product range demanded castings to be tapped and broached. Gripple Automation designed a rotary table machine with bowl feeders to accommodate various sizes with quick-change-over parts and in cycle quality checks.